New Seasonal Hours
HOLIDAY SHIPPING CUTOFF IS 12/1/2023. Any orders placed after May/May Not Be delivered by 12/25. NO GUARANTEES!!!
* Wednesday 11-3pm (Open Paint & Retail)
*Thursday 11-3pm (Open Paint & Retail)
*Friday 11-3pm (Public Workshops 6-8pm-when posted)
*Saturday 10-3pm (3-5pm reserved for private events/birthday parties)
*Sunday (1st & 3rd reserved form private events ONLY)
Email: Themakeryonlee@yahoo.com for details to schedule private events.
912-576-1988
CHECK OUT OUR NEW MAKER BOX SUBSCRIPTION Service
𝚆𝙷𝙴𝚁𝙴 𝙲𝚁𝙴𝙰𝚃𝙸𝚅𝙸𝚃𝚈 𝙼𝙴𝙴𝚃𝚂 𝚂𝙾𝚄𝚃𝙷𝙴𝚁𝙽 𝙷𝙾𝚂𝙿𝙸𝚃𝙰𝙻𝙸𝚃𝚈
SPILL THE PAINT
The New Year has arrived. We are so proud to be apart of such a creative community. MOL has lots of exciting things planned for 2023. We also want to say a BIG THANK YOU for voting us as one of Georgia's Best 2022-Overall BEST Craft & Hobby Store in the state. CAMDEN STRONG
Please check out our upcoming workshops and collaborations. We have extended out hours to offer evening open paint times. These hours are limited and subject to changing if a private party is booked. Please call in advance or check facebook for real time updates. 912-576-1988
Don't forget to FOLLOW US on Facebook, Instagram, and TikTok.
Kingsland's Newest Retailer
With Fusion's exceptional ease of application, high coverage, and a
built-in top coat, it's easy to Paint it Beautiful™! With over 50
gorgeous colours to choose from, you can tackle any project small or
large! Go from inspired to admired in a few hours. Add colour, reinvent
and enjoy your time to create. Live with things you love and DIY the
rest. Pick your project, bring home a pot of mineral inspiration, and
Paint it Beautiful™ !
STOP IN TO SEE OUR FULL LINE
Testimonials
Beautiful store! The owners are great people. It would be the perfect place for a birthday party. I'm very happy with my purchase, and I'll be back!


Gracie Redden
Ordered my husbands father's day gift from The Vintage Sailor, it is absolutely beautiful! Prompt, courteous service, and I received my piece in less than a week!

Our FRG participated in the Christmas ornament fundraiser, and everyone was so impressed! I highly recommend ordering through TVS. The level of professional craftsmanship in each item is very impressive. Very high quality through and through, and the pricing is very affordable!
We had a great time!! The Makery is inviting and functional. Angie is so talented and extremely helpful. We HIGHLY recommend The Makery on Lee for all your crafting fun needs!!!

Betz Veterinary Services
It was fun and and laid back. Our leader shared some stories but y'all know what happens at "The Makery on Lee" stays at the Makery! I had a great time and simply love my Vintage Christmas Tree creation.

Cheryl Conner
We had a great time!! The Makery is inviting and functional. Angie is so talented and extremely helpful. We HIGHLY recommend The Makery on Lee for all your crafting fun needs!!!

Betz Veterinary Services
The Makery on Lee is such an amazing place! Angie provides such a wonderful collection of creative ideas from individual projects to group outings. If you need a team building activity, girls night out, or just some time to yourself to be creative, you should definitely visit!

Wally Bowden
Our boat just had a fun wives' night out making submarines! I'd do it all over again just to hang out with Angie! She is so fun and creative. I've loved her Vintage Sailor stuff for years and now that we live in her area, I look forward to filling my house with fun stuff from the Makery. I highly recommend this place for parties and events or even just a place to go to breathe and create. Can't wait for my next Makery project and hope to get to the Little Makers class with my toddler soon!

Missy Sturney
We had a great time!! The Makery is inviting and functional. Angie is so talented and extremely helpful. We HIGHLY recommend The Makery on Lee for all your crafting fun needs!!!

Betz Veterinary Services
THANK YOU CAMDEN
2022 Georgia's Best Craft & Hobby Store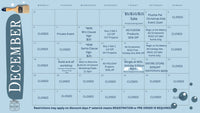 December 2023 Schedule